Virtual desktop functionality


What is the virtual desktop?
Virtual desktop is an 'add-on' service on top of the standard workspace that enables users to use extended range of analytical tools and use 'bring your own tools' functionality. The virtual desktop allows user access to AnalytiXagility using Windows and Mac OS X remote desktop technology and to integrate 3rd party tools and custom solutions in to the existing AnalytiXagility framework. This allows users to have a wider range of favourite specialist tools to hand.
Users can add one or more virtual desktop while maintaining access to all of the same files and data available in the AnalytiXagility web interface users. Virtual desktop environments preserve collaborative and audit functionalities that standard workspace users enjoy.
Connecting to virtual desktop environments
Remote desktop connection software is required to connect to a virtual machine that has been created for a user. The latest Microsoft RDC software is supported on Windows and Mac OS X operating systems.
Requirements
Firewall
The user firewall must be configured to permit outbound HTTP over SSL traffic on TCP port 443 to the Internet. Should customer network security policies not allow for such a permissive firewall rule, please contact servicedesk@aridhia.com and a member of the team will be able to provide a list of destination IP addresses for more restrictive firewall rules.
Operating system
The user must employ one of the following operating systems:
Windows 7 SP1 (including the updates referenced in KB2830477)
Windows 8/8.1
OS X 10.10
Browser
The user must employ one of the following browsers:
Google Chrome
Internet Explorer (version >= 8)
Mozilla Firefox.
Remote desktop client
Remote desktop clients supporting the use of a gateway server must be used. The clients currently supported are:
Windows Remote Desktop Connection
Microsoft Remote Desktop Client for OS X (version >= 8.0.18).
Accessing your virtual desktop
Workspace owners can request the virtual desktop access to be granted for workspace members. Users will receive their login information and URL link to the environment via email. An initial password will be emailed to the user separately. Clicking on the provided URL link opens the 'RemoteApp and Desktop connection' service.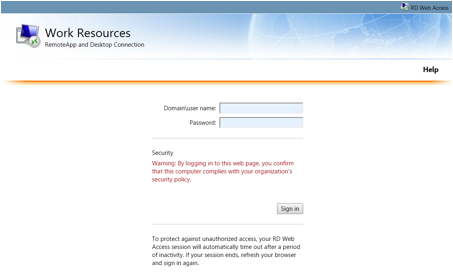 Enter your provided credentials and click Sign in to access the connection.
Initial password change
It is recommended to users to change their initial password during the first login. To do so, enter your Domain/Username, current password and new password and click Submit.
Feedback on whether or not the password change has been successfully will be presented at the bottom of the screen. If the password did not meet the requirements, please repeat the previous step.
Establishing connection
Once logged in, users will find list of the available Remote Desktop Services (RDS) connections.
After clicking the RDS collection one of two things may happen depending on the browser being used. Internet Explorer will automatically launch the Microsoft Terminal Services Client, but others will download the connection file which must be opened manually – a double click should suffice.
A 'Remote Desktop Connection' pop-up window will appear, now click on Connect. Now, users will be prompted to provide their login credentials again. Click ok.
Connection may take few moments to configure remote session.
You should now be logged in to the Remote Desktop Services solution. From here you will be able to access the virtual servers provided as part of the project specific isolated compute environment via the tools on the desktop.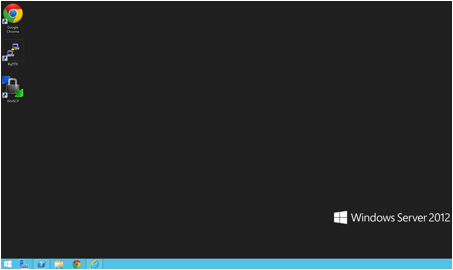 This remote desktop machine acts as a Landing Virtual Desktop and comes already equipped with a range of analytical tools.
Accessing workspace files


When the connection to the Landing Virtual Desktop is established you can open File Explorer and navigate to the Workspaces drive. All workspaces that you have access to will be listed in this folder. When you open a workspace's designated folder you should see datafile and files folders which are linked to the datafiles and files repositories of the web interface of the standard workspace and follow the same audit procedures.
Accessing data
Users can access data given their access role allows it. If you want to access data to perform your analysis using your preferred tool, your tool must support PostgreSQL database connection functionality. This requires you to know the name of the database and have permissions to access data for analysis. These will be provided to the users with Administrator role access.
The exact process of connecting to the database and accessing database tables depends on the workflow of the tool you are using. Once you have secured access to the PostgreSQL database schema you can access the available tables in the Table tab.
Bringing your own tools
If users require to configure their virtual desktop and/or to install 3rd party tools they can do so by extending into the Sandbox Virtual Desktop, where users have rights to configure the environment and install their tools of preference, just as they would do it on their local machine.
Once you accessed your Landing Virtual Desktop go to the start menu on your remote desktop screen. In the
top right corner use the Search field and find Remote Desktop Connection. This will allow you to establish a connection to the Sandbox Virtual Desktop.
In the pop-up window which now appears, insert the connection details of your workspace's Sandbox Virtual Desktop provided in the request email from your workspace administrator. Select Connect. Please note that this connection might take some time.
To install your preferred 3rd party tools, simply upload your software installer to the datafiles folder via SFTP tool. Make sure that your software installer is compatible with the OS specifications of the Sandbox Virtual Desktop. Once the installer file is uploaded, log in to your Sandbox Virtual Desktop and navigate to your workspaces uploads (e.g. '..*workspace_name*/datafiles/uploads) where you will find your uploaded software installer files.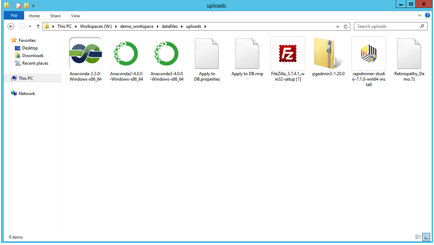 Now, you can access your uploaded files in the Sandbox Virtual Desktop and install your preferred software just like you would do on your local machine.
To contact support, send an email to the Aridhia service desk: servicedesk@aridhia.com.