AirLock – managed data export and sharing
The Airlock feature provides an enhanced level of security for the download of files and/or data tables to a user's local computer. To maintain the security of data in a workspace, users must submit a request to download one or more files or data tables. Such requests are managed by users with workspace administrative privileges.
Submitting a download request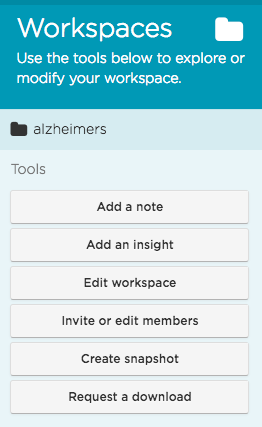 Users can request to download datasets and files. To submit a request to download a file or multiple files, navigate to the Summary tab and select 'Request a Download' found in the 'Tools' menu. You can also select an individual file in the Files tab, or an individual data table in the Datasets tab, and click 'Request a download'.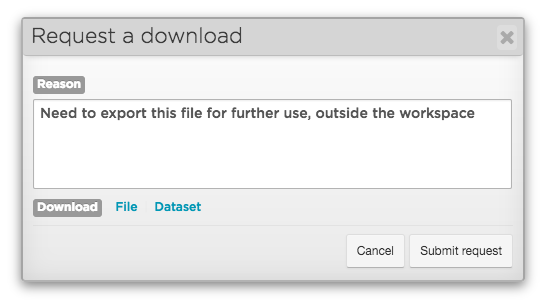 Users are required to supply a comment describing the reason for the request, and select 'Files'.
Then, select one or multiple files to download and click 'Attach Files'.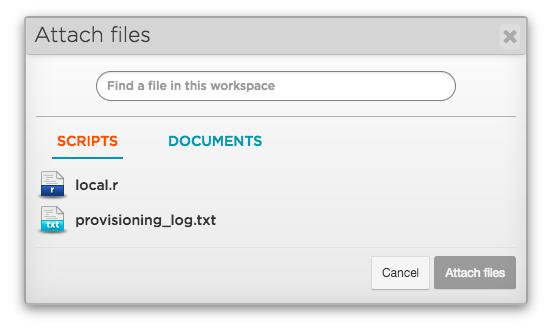 Likewise, users can request to download datasets by selecting the 'Dataset' option in the menu. Similarly, select the datasets you want to export and confirm by pressing 'Attach Datasets'. Datasets will be exported as .CSV files.
You will see a list of selected files and datasets appear in the dialog. You can remove unwanted objects here by clicking 'Remove'.
When you click on 'Submit Request' your request to download will be published. You will see the request appear in the activity stream with the

status. You can also filter the activity stream to view requests which are awaiting authorisation.
Other users can leave comments on your request. At this stage, workspace administrators will be notified about your request and can accept or refuse your request.

Downloading approved files
Once your request is approved by a workspace administrator, the status of your request will change to

. Click on 'Download', this will download all approved files wrapped in a ZIP file.

Authorising and rejecting download requests
Administrators have the ability to either approve or reject download requests. Administrators receive a notification each time a user submits a request to download, with all notifications available for review in the top navigation bar.


As well as seeing all notifications here, Administrators can filter their notifications to show those requests awaiting authorisation.


To approve the request, click 'Approve'. This will change status of the request to

and will allow users to download the requested files.
Rejecting download requests
To reject the request, simply click 'Reject'. This will change status of the request to

and users won't be able to download the requested files.
You can also add a comment to provide more details about your decision to approve/reject download requests. Administrators can also reject the request even after it was approved. This will also change status of the request to

, and remove the link to the download files.
To contact support, send an email to the Aridhia service desk: servicedesk@aridhia.com.