Introduction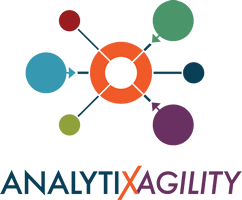 The following pages give you a comprehensive walkthrough on getting started with AnalytiXagility, including how to use the analytic and collaboration tools, notifications, advanced features etc. Simply choose the sections that suit your needs, or get in touch if you have more questions.
About the platform
The AnalytiXagility platform (also referred to as "the platform") is a cloud-hosted, collaborative analytics platform that allows you to conduct sophisticated analysis of research data.
AnalytiXagility allows you to analyse and visualise your data, manage data sharing, publish reports and papers, and work safely within the confines of your information governance policy boundaries.
If you are a data owner, the platform enables you to share your data with analysts in a controlled environment from which data cannot be removed, and where data interactions can be monitored and, if requested, audited. If required, your data can be de-identified or otherwise anonymised to ensure confidentiality. As an individual, you can also use the platform to store, access, and analyse your data securely.
If you are a user, the platform provides a way to gain access to restricted data, the ability to store and analyse private data, and/or share this data with colleagues. If you are part of a collaborative research group, you can use the platform to create shared research outputs.
Key features
AnalytiXagility provides:
A secure, hosted, and self-service subscription platform aligned to user consumption.
Collaborative, scalable analytical workspaces, pre-loaded with the latest database capability, analytical and collaboration tools, technologies, apps, and APIs, and provisioned based on number of users, size of data and project duration.
The ability for multidisciplinary teams to connect, load, link, analyse and transform datasets from multiple sources, and of all sizes and complexity, throughout the analytic process.
Access to private workspaces both via an intuitive, web-based user interface or an optional virtual desktop from Windows and Mac OS X desktops.
Full user activity tracking and monitoring, with outputs available via an audit report within the workspace.
Easy import and processing of large amounts of complex data from multiple sources.
A range of data ingest options.
Additional services to improve data quality, security, access and transformation including data de-identification, dataset definition and ontology services.
Support for research journal publication.
Access to open source and international standards.
Safe and secure data sharing.
Information governance
Aridhia is committed to protecting and respecting the privacy and the security of your data. AnalytiXagility has been designed with privacy, security and the best attributes of national and international data safe haven services at its very heart.
We take security seriously. Every precaution is taken to ensure the safety of your data, and Aridhia is very open about what provisions we have put in place to ensure your data is protected to help you meet your compliance obligations under UK and EU law, international standards and sector-specific standards such as the NHS England IG Toolkit, the Caldicott Principles and the Information Security Standard ISO27001.
For more information regarding privacy and security please download the AnalytiXagility Information Governance datasheet.
Data import and ingest
Data and files can be easily added to your workspace through the web interface in the platform. You also have the option to securely upload data and files using our SFTP service, which is encrypted with the industry-standard AES-256 cypher.
We also offer an range of data ingest options, including an HL7 interface for automated import of healthcare messages, active database agents for direct database connections, DICOM endpoints and bespoke file transfer.
For more information regarding data import and ingest please download the AnalytiXagility datasheet.
Compute and data fabric
One of AnalytiXagility's key benefits is that it is cloud-based, making the service both flexible and easily scalable whilst maintaining consistent compliance with information governance standards. Our technology choices are open-source driven, with scalability built in and include Greenplum and Hadoop. We have a significant technology partnership with EMC/Pivotal and our IaaS hosting providers are UK Government approved (IL2, ISO27001, ISO9001). At each tier of the AnalytiXagility system, there is horizontal scalability through component replication. This is a major advantage of the IaaS substrate provided, where there is large redundancy and capacity for growth shared across users.
For more information regarding the compute and data fabric please download the AnalytiXagility datasheet.
Tools and technologies
AnalytiXagility's analytic and data tools are designed to accommodate collaborative analysis by multidisciplinary teams to work and communicate on data. This allows users with differing levels of data science skills to effectively visualise, interact and communicate around their data using built-in interactive analysis and social tools.
Current built-in functionality includes R console, R Shiny, and parallelised SQL processing integrated with MADlib library. AnalytiXagility can also be extended to include a 'bring your own tools' facility by extending the workspace with one or more Windows or Linux virtual desktops where 3rd party tools are deemed to be the best option for certain tasks.
Although you do not need to be an expert researcher to use the AnalytiXagility platform, you will get more benefit from the platform if you are familiar with the following software and tools:
R
R is a software environment and language for statistical computing and graphics. AnalytiXagility provides an interactive console to run R commands and see results, using the workspace data files.
Sql
Structured Query Language (SQL) is a special-purpose programming language designed for managing data held in a relational database management system (RDBMS).
Madlib
MADlib is an open-source library for scalable in-database analytics. It provides data-parallel implementations of mathematical, statistical and machine learning methods for structured and unstructured data. MADlib is enabled by default for all workspaces created, with a 'madlib' schema being created for all the workspaces.
LaTeX
This is a document preparation system and document markup language.
Hadoop
Hadoop cluster and console.
Virtual desktop
Users can add one or more Windows or Linux virtual desktops to their workspace with which they can use their own choice of analytical software. These can be sized according to your requirements (CPU and RAM).
To contact support, send an email to the Aridhia service desk: servicedesk@aridhia.com.