Working with workspaces



What is a workspace?
Workspaces are hosted private collaborative analytic environments within the AnalytiXagility platform, which a distributed team can access through both their web browser and virtual desktop environments (where applicable). Workspaces provide a model for teams that may align to projects, programmes or working groups from one or more organisations or departments.
The core principles of a workspace are:
Workspaces are private to their members.
User access to workspace features and data is managed through a permissions model and can be maintained by a workspace administrator.
Workspaces are configured based on file and database storage and compute requirements, virtual desktop requirements, and any additional add-on services (such as the RStudio Shiny server).
Users manage their data in their AnalytiXagility workspace including modelling, cleansing, filtering and sharing.
Workspaces allow you to manage core data assets such as database files and tables, documents and scripts.
Once uploaded, files, database and data files are readable and writable via both the web interface and the optional virtual desktop environment.
Workspaces provides audit reporting.
As already mentioned, each workspace contains files and datasets. When you first log into the platform you start on your homepage, which lists all the workspaces you have access to.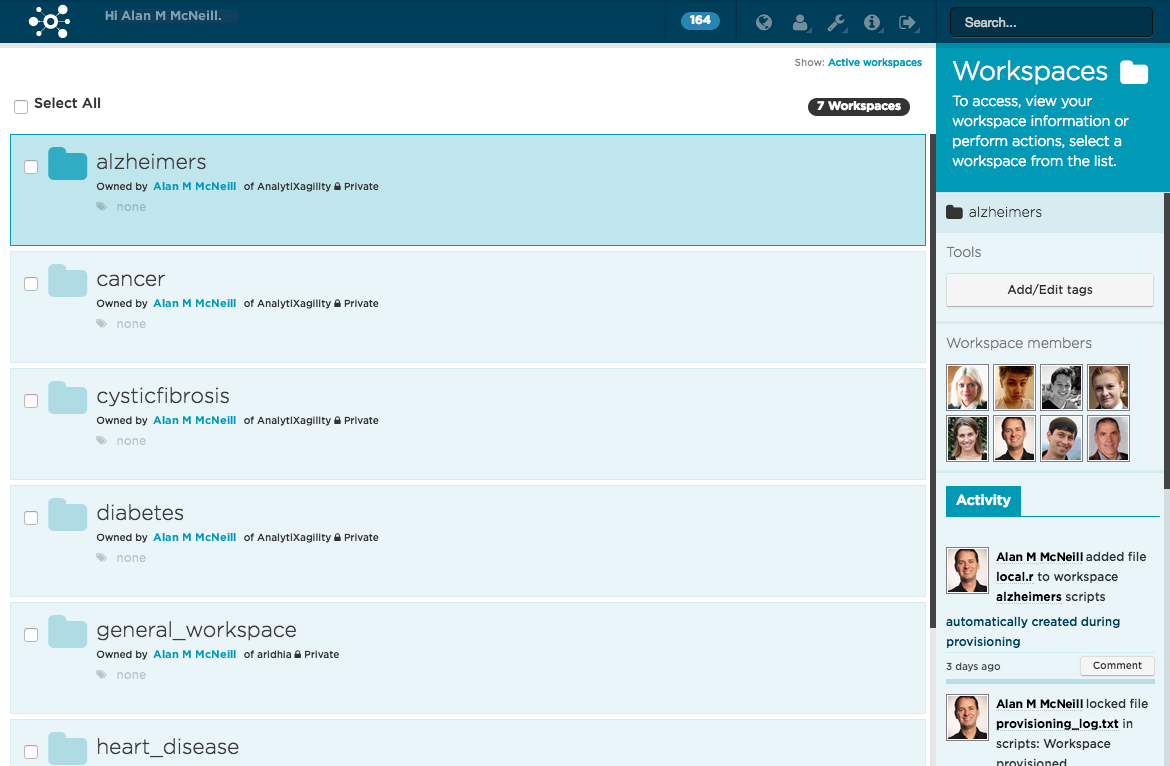 Creating new workspace
You cannot create new workspaces in the web interface. If you require a new workspace to be created, you must place a request with your Service Desk who will guide you through the process.
Opening a workspace
To open a workspace, start on your homepage to see your workspace list, then click on either the workspace name or the associated folder icon in the workspace list. This takes you to the workspace Summary tab.
Getting access to a workspace
If there is a workspace that you are interested in viewing, but do not have access to, you can ask the workspace owner to invite you as a member of the workspace. Once they have done so you can accept the invitation from within the workspaces list by clicking on the 'Invited to join' button, then the 'Respond to invite' button.
Web interface workspace functionality
Each web accessible workspace has the following functionality (please note that access to functionality is dependent on your role and access privileges. See the Role-based access section for more information):
Users can:
View a list of the workspaces of which they are members.
View the activity stream for each workspace.
Add insights, notes and tags within a workspace, with the option of notifying other users.
Access files and shared scripts.
Install packages into an R console session from a managed repository of libraries.
Edit their profile (including contact details, description and profile image) and change their password.
Run SQL queries on workspace data and view results.
Access a 'quick' visualisation feature to create histograms, frequency tables, heat maps, time series plots and box plots.
Search functions across data and files.
Workspaces:
Can be customised by adding/removing logos and adding a workspace description.
Support a built-in R console for interactive analysis.
Have a file editor (SQL, R, RNW & text).
Have PDF report edit, creation and download capability.
Allow resource tagging of workspaces, data and files.
Support a mini-apps visualisation and development environment (upgrade option).
Support a dedicated R server configured according to specific memory and compute requirements for use with the R console (upgrade option).
Workspace tabs
The workspace Summary tab appears as follows: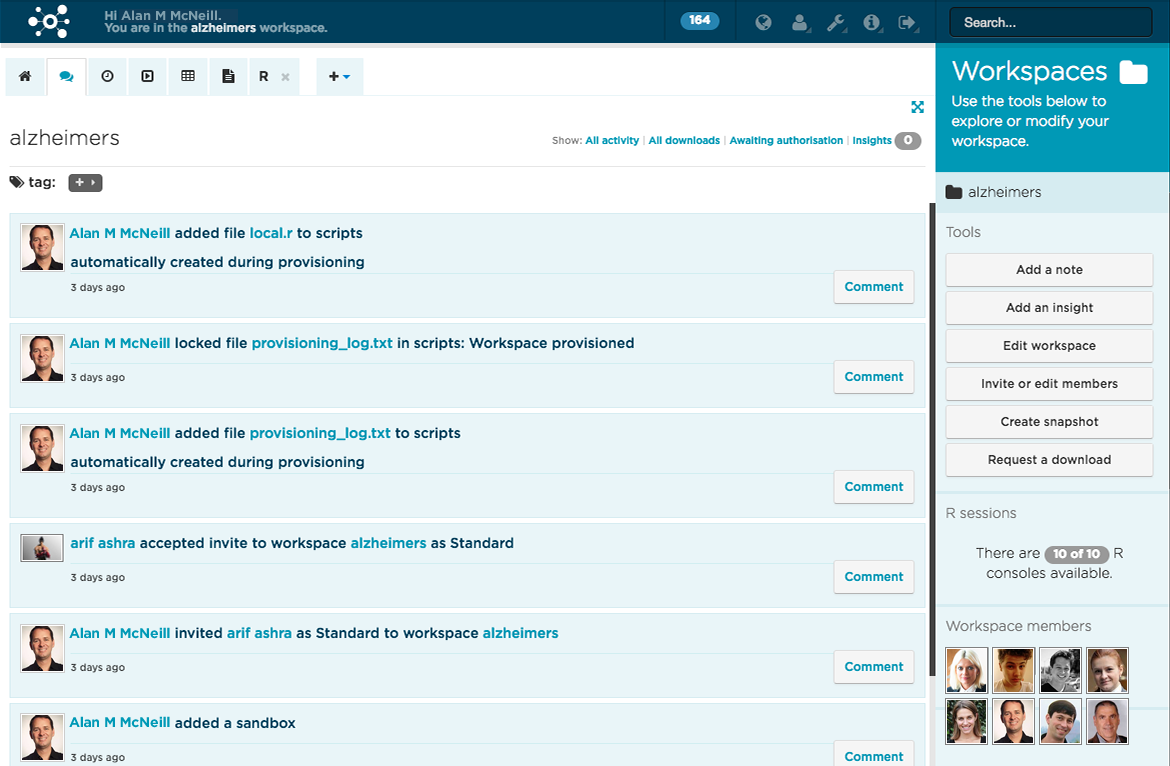 A number of fixed tabs are visible from this page:


Home Page

This tab shows the dedicated workspace homepage, if one exists. The content for a workspace homepage is configured by supplying HTML in a workspace.html file in the 'Scripts' folder.
Summary

This tab shows a summary of recent activity relating to the workspace – for example when files have been uploaded or deleted. When on this page you can add notes, comments, and insights about any events in the workspace.
Audit

This tab shows all of the auditable events which have occurred in the workspace. These events include the user who have accessed the workspace and files being added or deleted. Additionally, some charts are shown which give a summary of different types of usage of the workspace over time.
Mini-apps

This tab shows published R Shiny apps. You can also explore un-published mini-apps, explore mini-app file structure and add new files. You can also remove mini-apps from the gallery here.
Datasets

This tab shows a list of the database tables and views that are available in the workspace database. Clicking on a table or view will bring up details such as regarding the number of columns and rows, related activity and size, in the panel on the right hand side of the window.
Files

This tab shows all of the files associated with the workspace. These can be images, Word documents, PDFs, SQL/R scripts and custom files.
R session

This tab gives access to an interactive R session. The R console is pre-configured with a broad selection of the most popular packages and can be further configured by the user to include any of the 5000+ packages that have been built by the R user community. These packages cover a wide variety of use cases from data manipulation and visualisation, to advanced analytics and machine learning, as well as specialist packages for text mining, natural language processing, genomics, clinical trials and imaging analysis.
Add

The Add tab allows for the creation of files, folders and mini-apps, and for the uploading of new files and data. You can also start a new R console session.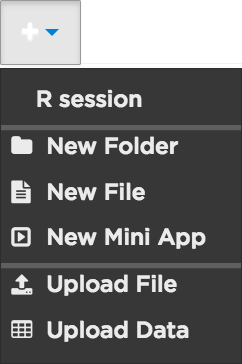 To contact support, send an email to the Aridhia service desk: servicedesk@aridhia.com.