Reviewing audit information


The Audit tab can be viewed by workspace administrators. It holds a number of pieces of information showing how a workspace has been used, identifying who has looked at what, as well as where and when this activity takes place. Clicking on the Audit tab displays a chart offering user tracking across resource access, files and dataset uploads.
Audit charts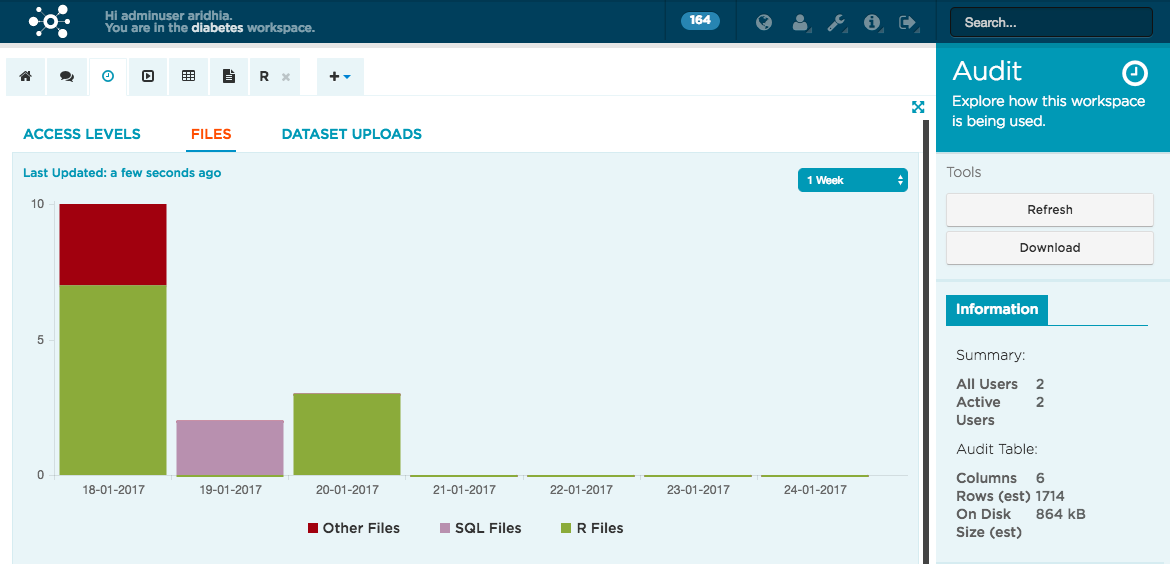 The Audit tab charts show how the workspace has been used over time. You can change the timeframe covered using the dropdown menu at the top right of the chart.
Access Levels shows the number of distinct users who have accessed a workspace over a period of time.
Files shows how many files were created and their file types.
Dataset Uploads shows the successes and failures of loading CSV files into the platform.
Audit table
Beneath the graphical display a table details all workspace events which have occurred, for example when users have accessed the workspace, added notes or deleted files.
The table displays 10 rows of information by default, however this can be expanded to show up to 500 rows using the

dropdown. It can be sorted by clicking on a column header and be filtered by clicking on a value. The table can also be scrolled through using the page number or Next > buttons below the table.
Clicking on an individual user name in the Who column limits the table to only show audit events involving that specific user. Likewise, any column can be filtered by any value within it, e.g. file_access within the What column. After filters have been applied, simply select the 'Clear Filter' command to revert the table back to an unfiltered state.
Each interaction is assigned a unique identifier number, seen in the Identifier column, which ensures accurate monitoring of workspace transactions.
Audit information
The right hand sidebar contains high-level summary information about the workspace including:
All Users: the number of users which have access to the workspace
Active Users: the number of users which have ever accessed the workspace
Columns: the number of columns of data that the audit table contains
Rows (est.): the number of rows of data that the audit table contains
On Disk Size (est.): the amount of disk space that the workspace is consuming
You can also use the 'Refresh' button in this area to ensure that you have the most up to data audit information available.
Downloading Audit Table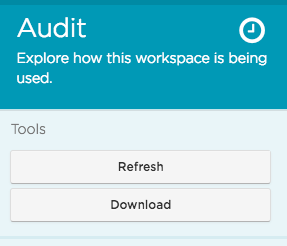 Administrators can also download the data in the audit table using the 'Download' button located in the right-hand sidebar. This will download the audit data as a .csv file.
To contact support, send an email to the Aridhia service desk: servicedesk@aridhia.com.