We are proud to have sponsored the recent Data Science for Social Good UK (DSSGx) Datafest 2022. DSSGx is an affiliate program of the Data Science for Social Good (DSSG) program which is run from Carnegie Mellon University (CMU), Pittsburgh, Pennsylvania. DSSG aims to help not-for-profit organisations and government bodies to achieve more with their data so that they can fulfil their mission of bettering the world and people's lives. To achieve this, DSSG gives these organisations access to top-tier data scientists who help them to maximise the effectiveness of their data.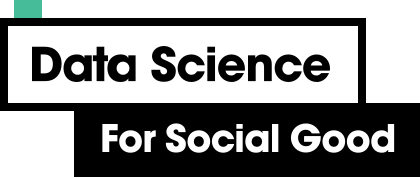 The 2022 event (based at the University of Warwick) runs from the 6th of June until the 26th August. During that time, Aridhia will be providing a Platform Hub along with analytical workspaces for the teams involved. While Aridhia's focus has always typically been towards biomedical and life sciences, the DRE is data agnostic and can be used in the analysis of all kinds of information. Take a look at each of the projects and how we're supporting them:
UNICEF & Save the Children – Child Poverty
This joint project between UNICEF and Save the Children will predict the levels of multi-dimensional child poverty in developing countries. They take part in over 50 wide-ranging programs that cover everything from immunisation and sanitation to nutrition and education outcomes. The project will reference Facebook's Data For Good Wealth Index, a system which predicts relative living standards within countries using a variety of novel data sources. With the help of satellite imagery, local survey data, and more, the team will develop a resource prioritisation application that will optimise resource allocation, national policy planning and ongoing advocacy that will impact 197 million children each year.
Buckinghamshire Council & EY Foundation – Supporting Young People
This project from Buckinghamshire Council and E Y Foundation aims to predict, identify and support children and teenagers with high risk of becoming NEET (Not Employed, in Education or Training), which are linked to a higher likelihood of unemployment, low wages, and lower quality of work later in life. E Y Foundation are an independent charity that supports young people from these kinds of backgrounds to secure work experience, skills training and career advice. Since their inception in 2014, they have supported over 16,000 young people and social enterprises. The end point of this study will hopefully see support provided for 6,000 people annually, to bring Buckinghamshire's NEET rate down from 7% to the national average of 5.5%
St Basils – Youth Homelessness
St Basils is a highly successful charity organisation providing support to 4,000 young adults aged 16 – 25 years old every year, who are homeless or in immediate danger of becoming homeless. They would like a model to predict the probability of a positive outcome depending on levels of support received for new clients, and their critical status during the point of intake when they start using St Basils services. Deliverables would have immediate impact in optimising care outcomes, improving on-the-ground operations across their 10 hubs and improve funding discussions with care commissioners (local councils).
Pure Leapfrog & West Midlands Combined Authority (WMCA) – Carbon Zero
Pure Leapfrog and WMCA are striving to ensure the UK meets net-zero carbon emissions by 2041. The project will look at using a predictive model to identify urgent candidate homes that require infrastructure retrofitting.
Support
"We are incredibly happy to work with Aridhia's DRE platform. Their ISO certification gives confidence in the safety of our partners' sensitive data and assists them in their social welfare mission. Furthermore, Aridhia's introductory training sessions were immensely helpful in getting started, and our weekly support meetings have been an invaluable extra resource, allowing our DSSGx-UK fellows to get the most out of working in a secure, remote environment. This experience supports our DSSGx-UK goal of facilitating the holistic development of our fellows as future data scientists. Thank you very much, Aridhia and Team!"
Aridhia is providing free workspaces for the teams, and provisioning virtual machines in each of them. The Enablement Data Science team gave project supervisors hands-on training sessions to help tailor the workspaces to their needs. Many of these needs are machine-learning focussed; JupyterLab use with Python seems to be the popular choice. The team also provided live walkthroughs and Q&As to the rest of the users taking part. The environments have also been adapted for each team to include, among other things, non-standard whitelisting of certain online resources.
Regular meetings are scheduled with the project supervisors, and ongoing support will be available from both the Enablement team and the Aridhia Service Desk to ensure the success of the event.
We hope to give an update after the end of the Datafest, so watch this space!
---