Be part of something that matters.
Working with Aridhia is about more than just a job, it's a chance to make a real difference to the world.
Whether it's a COVID-19 research group or a paediatric cancer consortium, Aridhia's innovative Digital Research Environment enables healthcare and research organisations to develop and accelerate new, data-driven approaches to healthcare.
Our Mission.
To accelerate the availability and use of health data for biomedical research and better patient outcomes.
What we do.
Aridhia enables clinical and life sciences users to use Cloud services to collaborate, investigate and develop innovative therapies, diagnostics, and care pathways for a range of medical conditions.
We do this through Software and Platform as a Service, giving self-service access to secure workspaces for data management, de-identification, statistics and machine learning, cloud computing and interactive visualisation.
In this way, a growing number of research hospitals, universities and pharmaceutical companies can ensure confidentiality, compliance, and ethical use of patient data.
How we work.
We follow an agile working method with daily team stand-ups, progress boards and sprints to keep people informed and involved as projects evolve, and to share knowledge across teams.
Aridhia is entrepreneurial and ground-breaking. We're solving real issues in the health and data science sphere, creating a market, and growing a business; it's probably unlike anything you've done before!
Come and build a career based on forward thinking, working in the open, an adaptable mindset, and a drive to do to the right thing for both our people and our customers.
What's in it for you?
Aridhia is a company where inclusivity and unique points of view are championed. We believe that the personal insight of our team members, and the collaboration between them, is where innovation starts.
In addition to competitive remuneration packages with opportunities to share in our commercial success, we offer the following benefits:
| | |
| --- | --- |
| | Flexible working, including Remote Working and Flex-time |
| | Annual holiday entitlement of 35 days, inclusive of three public holidays |
| | Private healthcare for employees and their families (Including access to EAP programmes, mental health treatment and spa, gym and golf discounts) |
| | Death in Service scheme |
| | Generous Company Pension scheme |
| | Enhanced maternity, paternity and sick pay benefits |
| | Individually tailored induction and personal development plans |
| | Personal Training Budget |
| | Free flu vaccinations |
| | Company social events |
| | Access to meeting venues and hot desk facilities |
Our Team Structure.
Aridhia is a fluid organisation, reacting to the ever-changing needs of the industry and strengths of our employees. Our structure as a business has moulded over time to accommodate these shifts.
Where will you sit in our team?
Senior Management Team
The Senior Management Team consists of the Chief Executive Officer, General Counsel, Chief Data Officer, Chief Science Officer, Chief Operations Officer, Chief Project Officer and Chief Product Officer.
Product Owners
As a company providing two core services (Workspaces and FAIR Data Services), Aridhia has two figureheads who take ownership of everything related to their product; our Product Owners.
Delivery
This department contains all of the teams whose sole focus is the delivery of our services. These teams include Dev/Ops, Information Security, Service Delivery, Workspaces and FAIR.
Customer Enablement
This team is all about enabling Aridhia's customers to get the most out of our services through Project Management, Customer Engineering, Customer Success and Sales Support.
Business Operations
The Business Operations team consists of Legal, Finance and Human Resources. They support our diverse workforce to ensure efficient day-to-day operations.
What it's like to work here.
We combine technical, data science, commercial and academic expertise to deliver services at the leading edge of the analytics space, making Aridhia an inspiring and exciting place to work.
Each team member has a vital contribution to make through the application of their skills, knowledge and experience. What makes Aridhia successful is our ability to work together collaboratively, both internally and externally.
Take a look at how they describe their experiences here.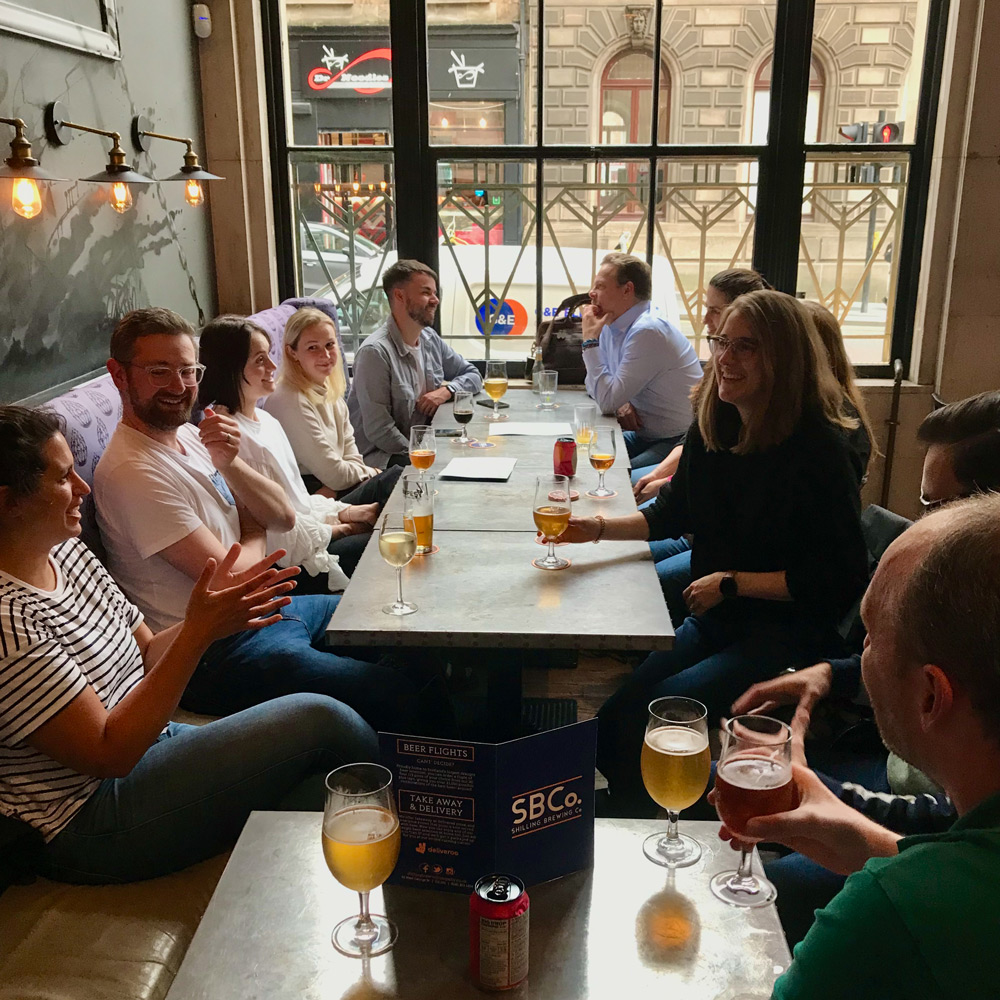 Social Events
While we may work remotely now, there's always time for the occasional meetup.
We encourage a positive team culture, and we like to think that makes everyone feel welcome when in-person meetings and socials are organised.
From conference rooms to escape rooms, charity appeals to lunchtime meals, we're always open to suggestions from the team of what we might do next. Read on to find out more.
Our Values.
We're aware of the responsibility we hold, working in a position that can affect such positive change in the world of healthcare.
Forward Thinking
We enable trust, innovation and progress.
People First
We always strive to do the right thing for our people and customers.
Openness
We work in the open and engage collaboratively.
Determined to Deliver
We focus on efficiency to solve problems and to deliver on commitments.
Quality
We are dedicated to having high standards and solutions.
Adaptability
As things change, we listen, learn, reflect and calmly adopt.
Diversity and Inclusion.
Delivering such innovative services requires the talents of a diverse and multidisciplinary team.
Aridhia embraces inclusivity in all aspects of the company, bringing together talent from all walks of life with valuable experiences and skillsets.
We are committed to improving our team diversity and believe that every individual can bring something different to the table and drive innovation.
Career Opportunities
We are always looking to meet new talent, so please take a look at our list of current opportunities. While Scotland-based, Aridhia are a "remote-first" company that trusts in the autonomy of its employees and the integration of remote communication and support tools.
How to apply.
We also welcome direct speculative applications and enquiries, so if you don't see an exact fit in our current vacancies, but feel that you have valuable experience to offer, please send a CV and covering letter to recruitment@aridhia.com. You must be able to demonstrate talent in a relevant area, be forward thinking, flexible, proactive and committed to achieving our goals.
We only work with a small number of recruitment agencies on our Preferred Supplier List (PSL) and will not consider any CVs from other agencies, nor will we pay fees to an agency which has not signed up to our standard terms.
Please note all successful candidates will be required to achieve a Basic Disclosure Scotland Certificate.