January 28, 2016 | Pamela
When we launched our first Impact in 60 Seconds competition in partnership with The University of Glasgow College of Medical, Veterinary and Life Sciences (MVLS) and Glasgow City of Science in May 2015, we wanted to achieve two things. First of all, to showcase the exceptional talent at the University of Glasgow; and secondly, to recognise the importance of engagement and communication between collaborations in the field of medical science.
In this increasingly collaborative world, open innovation in life sciences is rapidly becoming accepted as standard, and as a result there is increasing employer demand for excellent communicators. So we were delighted to be inundated with outstanding award entries – the standard of entries was so high that the judges had a very difficult job and it came right down to the wire to select which videos would win!
Here, Natasha Lewis, one of the competition winners, describes how the competition has sparked a new interest in science communication, helped her gain recognition in her field, and uncover new found skills with plasticine!
---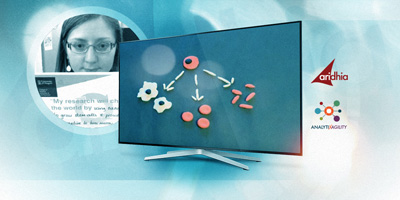 When the Impact in 60 Seconds competition was first announced, my supervisor encouraged me and the other PhD students on the BBSRC WestBio Doctoral Training Programme to submit an entry. I was initially reluctant, mainly because I had visions of having to film myself talking to a camera, which is definitely not something I would enjoy! 
However, when I sat down to think about how I would explain my project, the only way I could see to fit in enough detail was to cut out any 'talking heads' entirely and do it as an animation. This approach made me much more enthusiastic to make and submit an entry. In the end I decided to film a stop motion animation using plasticine.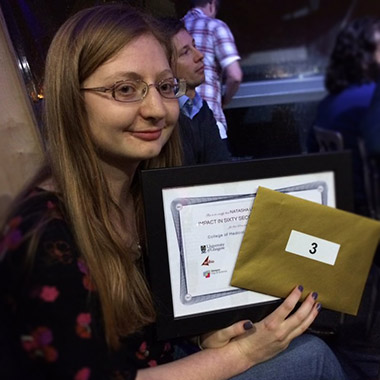 I did the filming for the video when I went on holiday with my family to rural Scotland, with little signal and no internet. I bought 10 pots of play dough from the Works for £5 and borrowed my dad's camera and tripod. When I started, I had no idea how it would turn out and it was exciting just to run through the individual images quickly and watch my plasticine cells come to life. I didn't plan it out in detail but had some images in my head of what I wanted the video to look like. In all, taking the individual shots took about 4 hours, moving each piece about a millimetre at a time to get a smooth movement. I also filmed part of it backwards as it was easier to take something apart than to construct it. After the images were taken and edited to make the 60 second animation, I recorded my voice and edited it using Audacity. I really enjoyed learning how to use this software and editing my sound files to fit exactly to the video.
At the award ceremony at the Science Centre in Glasgow all 10 shortlisted entries were shown. They were all fantastic and it was great to see how many different methods of explaining complicated concepts were used. I was thrilled when I was presented with 3rd prize. The award ceremony was also a great opportunity to meet people from Aridhia, Glasgow City of Science and the University of Glasgow who are also interested in communicating science and building collaborations in the city.
Since my video won the prize, I've been able to use it in other settings. For example, shortly after the awards evening, I showed the video to the delegates attending the 9th UK Mesenchymal Stem Cell meeting in Manchester as an introduction to my talk. It definitely helped to make me memorable as several people approached me to talk about my work and potential collaborations as a result. I was delighted to win the prize for best oral presentation at the conference.
It has also been useful to show to friends and family who've asked about my PhD – it's much easier to show them a video than explain a complicated concept using only words! The video itself has been worth the time and effort it took to make it, and winning a prize was just a bonus!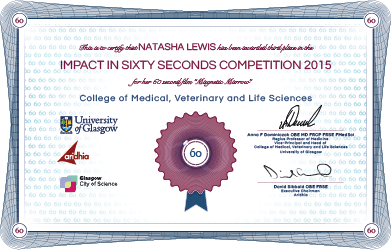 The video has also tied in nicely to the social media venture for the Centre for Cell Engineering, the lab where I'm based. A group of PhD students and post-docs have recently set up a new website (www.cceuog.co.uk) and associated social media profiles: my video can now be viewed on our department YouTube channel! We've had a huge positive response from people who have viewed the video online, and we are planning to produce other videos that will communicate the work the department does to the public.
Although I was initially sceptical about entering the competition, it has been immensely rewarding and has helped me to realise an interest in science communication. It has also helped me to be braver in networking situations, and has taught me that if you are prepared to make yourself stand out (in a good way) then you are more likely to be remembered: something that will be valuable throughout my career whether it is in academia or not. To anyone considering entering, I would encourage you to get out of your comfort zone as you might surprise yourself.
---
See all the winning videos, including Natasha's Magnetic Marrow.
---