November 1, 2013 | Pamela
We have been hard at work over the past few years developing our analytics platform aimed at healthcare providers, research institutions and life science research teams. It provides a secure online environment for researchers to pool and statistically analyse de-identified datasets in support of knowledge transfer from clinical research to clinical practice.  It's been an enormous challenge, but very rewarding.
Aridhia strongly believes that making stratified medicine a reality is as much about data interpretation as it is about Next Generation Sequencing (NGS) technology. While this major advance in disease research has generated unprecedented amounts of high-quality data, the reality of truly understanding its relevance when viewed alongside clinical and patient data requires access to an online analytic environment in which collaborative analysis of large-scale, complex datasets is simple, scalable, cost-effective and secure.
As a former research scientist, it is clear to me that storing, managing and most importantly analysing these datasets is crucial to furthering insight into disease pathways and improved patient outcomes. It might be crucial, but it has long been a difficulty for research teams who tend to work in silos, often using bespoke software that isn't up to the task of analysing huge amounts of complex data. Add to this the fact that they are reliant on their IT departments to provide and maintain the hardware, software and visualisation tools required to perform high-quality analysis – which is very expensive – and you can see that the current state of play does not support the fast, inexpensive, collaborative analysis needed to further develop clinical research and the stratified medicine agenda.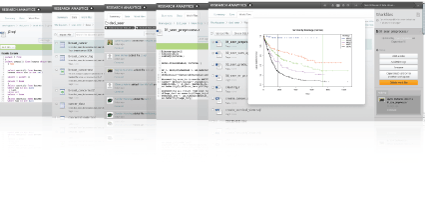 Our analytics platform is exactly the kind of web-based solution for the analysis of de-identified genomic and clinical data that experts have long cited as a key concept in driving innovation while ensuring patient confidentiality.
The Data Sharing Review Report presented by Richard Thomas, Information Commissioner, and Mark Walport, Director of the Wellcome Trust in July 2008 examined how the limits should be set on how the government and third parties use personal information about its citizens. The report highlighted that is impossible to take a generic view of data sharing, and that there are risks associated with data sharing but equally harm may be caused by preventing the sharing of data. Thomas and Walport identified two steps in the implementation of data sharing, the first the decision whether it is appropriate to share personal data for a particular purpose, the second on how to share data. Amongst their recommendations was the establishment of "safe havens" as an environment for population-based research and statistical analysis in which the risk of identifying individuals is minimised.
The Health and Social Care Information Centre (HSCIC) is still to issue its final guidance and instructions on Accredited Safe Havens but we believe that our platform will meet and exceed its technical requirements, and will help institutions to meet their obligations regarding information governance and access controls whilst enabling researchers to analyse data.
With the first instance of the platform now live inside the data centre of one of our partner institutions, the University of Edinburgh, we are excited to begin engaging with research groups and healthcare organisations to help them extract insights from their existing data to gain a deeper understanding of the mechanisms of disease and the consequences of treatment.
---