December 19, 2019 | Andrew
How useful would it be to be capable of forecasting the outcome of a clinical trial before you've completed it? What if you could use the data from historical trials to predict it? You could save hundreds of thousands of pounds that would have otherwise been poured into an ultimately needless Phase 3 trial.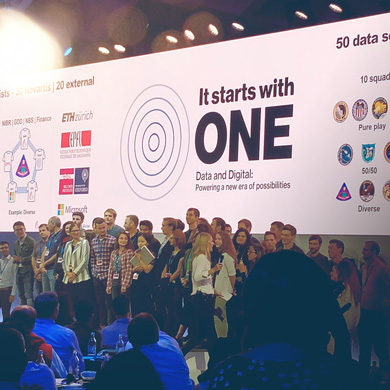 Novartis is hoping to answer this by running their global month-long  Data Science & AI (DSAI) Challenge. The further aim though, is to demonstrate the investment potential in developing an analytics environment that Novartis can use in the future to answers questions just like this one. They're using the Aridhia Digital Research Environment (DRE) on Azure to help them do so.
Novartis required a safe, secure environment where teams of scientists could collaborate with each other, the data, and a range of data science tools. Aridhia were able to quickly provision 75 Workspaces for over 300 users across multiple Azure regions around the world. Each Workspace gives the teams secure access to the all the data, tooling and compute resources they require to participate in the challenge.
Results will be available in February when Novartis will be announcing their prize-winners, so watch this space to see how the teams get on, and for a more in-depth look at what we achieved.
---