Powerful features to get your research moving
AnalytiXagility's secure, feature-rich research workspaces give you the freedom to innovate.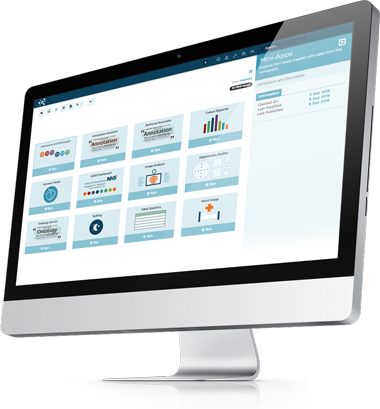 I want to Collaborate…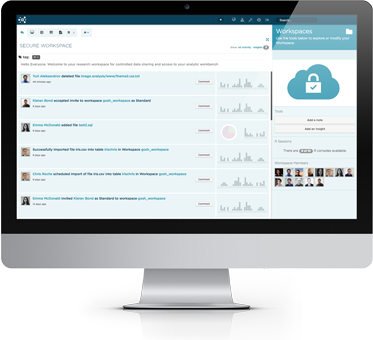 Transform your data and expertise into intelligence, together
Secure, web-based, anytime, anywhere collaborative analysis across boundaries
Comprehensive user profiles which enhance team collaboration and interaction
Embedded communication features including sharing, tagging, comments and insights, making it easy to discuss, share, and track project progress
Customisable homepages that create community and strengthen project identity
…In an Audited and Secure Information Governance Environment
Ensure compliance with built-in access, audit and security features
Certified ISO 27001 environment
Two-factor authentication to protect privileged data against unwarranted access
Role-based permissions model with multiple levels of access-controlled user roles
Self-service user management for approved administrators
Extensive activity reporting, tracking all access to files and data including workspace exports
Clinical trial folder structures to support efficient trial management, audit and inspection
Downloadable audit log for self-service offline analysis
Automatic virus scanning on all imported or uploaded data and files
Managed data export using audited, approvals-based download request facility
Encryption at rest and optional in-flight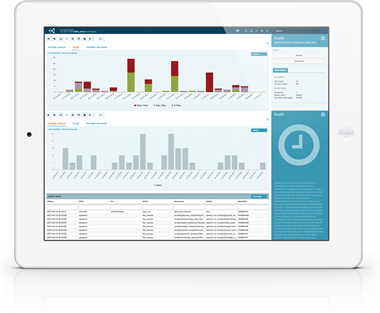 …That facilitates Data Ingest and Transformation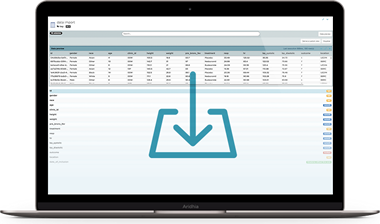 Streamline the research lifecycle from data upload to analysis
Simple point and click data import tool
SFTP for secure bulk import of sensitive data
File upload approval and optional authorisation referencing to confirm consent
Custom file transfer mechanisms (e.g. from genomics labs) where required
Automatic table mapping for CSV files and optional table definition file upload
Comprehensive meta information and external reference recording at the point of data upload
Integrated eCRF to aid compliance with Good Clinical Practice data collection guidelines
Data de-identification service to enable the safe sharing and analysis of clinical data
Ontology service to improve interoperability and data sharing
Datasets library service to maintain a single source of truth for clinical dataset definitions
…Offers the broadest Analytics Workbench
Accelerate experimentation for everyone from novices to experts with a highly flexible and extensible toolkit
Point and click data exploration and visualisations (bar chart, histogram, heatmap, box plot, time series)
Database joins (inner, left, right outer)
Interactive R console with scripting and package management
Prototyping 'mini-apps' using R Shiny to support visualisation and commercialisation
SQL programming with analytical extensions (OLAP, windowing)
Built-in statistical and parallel machine learning library for in-database analytics (MADlib)
Easy access to Windows or Linux virtual desktops from the web interface
Customisable virtual desktops with pre-installed templates or install your own software options
Straightforward, automated LaTex publishing with built-in journal templates
Integrated PDF viewer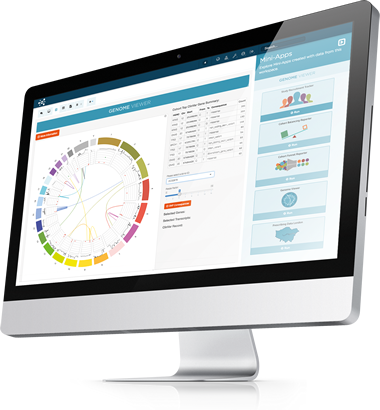 …Supports my Reproducibility challenges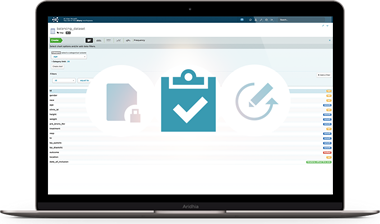 Effortlessly capture project data and code to address the challenges of peer review and validation
Version control to ensure the appropriate level of change control and asset management
File locking to safeguard files and help manage their lifecycle
Snapshot capability to create points-in-time in research activities
Archiving for reproducibility purposes, or as a funding requirement
Traceable insights and communication features
…And gives access to world-class Compute and Data Fabric technologies
Fast-track data innovation with the latest infrastructure supported by a rigorous, SLA-backed service
Scalable storage and compute from projects from small to large
Analytics at scale with Pivotal's massively parallel processing Greenplum database.