Your Next-Generation Research Environment
Aridhia
Workspaces
For collaborative data science
Workspaces is a secure and audited collaborative environment where data can be uploaded and analysed using Aridhia's customised built-in tools. It offers a virtual desktop where users can bring their own tools and make use of scalable compute for big data analysis.
What is
Workspaces

?
Workspaces

is an on-demand analytical environment that you can access anytime, anywhere. Built to enable project collaboration, data sharing and analysis with powerful custom-built tooling.
Security Built In
Data is stored in a secure environment where users' actions are audited for peace of mind.
Powerful data tooling
Use the built-in tooling to analyse and manipulate your data.
Scalable compute
Workspaces can be provisioned with high-level compute for large data projects or a standard compute to control costs.
Access from anywhere
Your cloud-hosted workspace can be accessed wherever and whenever you need it, making collaboration simple.
Why use
Workspaces

?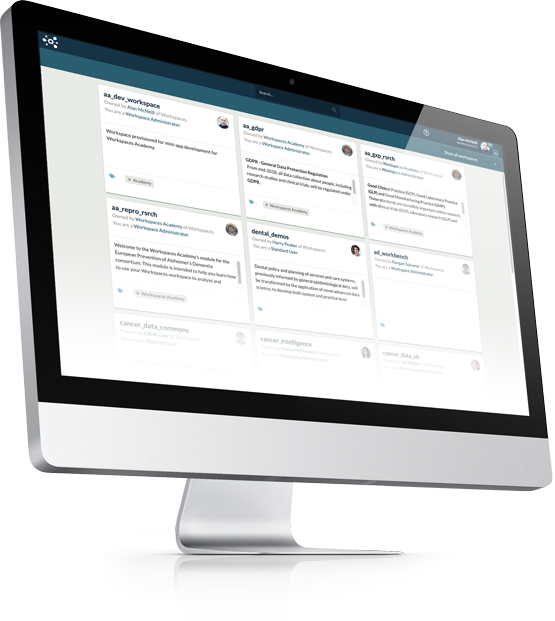 Securely store and analyse your data in a cloud-hosted research environment with built-in analytics, access to virtual desktops, scalable compute and specialist software.
Certified ISO 27001 environment where two-factor authentication is enforced to protect privileged data against unwarranted access.
Use a simple point and click data import tool or SFTP for secure bulk import of sensitive data.
Built-in, flexible and ever-expanding suite of analytical tools and rapid prototyping technologies.
Embedded communication features including sharing, tagging, comments and insights, making it easy to discuss, share, and track project progress.
Access to customisable Linux and/or Windows desktops to carry out your research in a familiar environment. Add GPU compute to projects with big data problems or keep the compute standard and control project costs.
Cutting-edge infrastructure supported by a rigorous, SLA-backed service.
Aridhia
Workspaces
Workspaces allows you to innovate and collaborate in a flexible and secure research environment.
Collaborators can upload, access and analyse project data in a protected environment where their actions are audited for added insurance. High-powered compute can be combined with your own data analysis tools in a virtual desktop to support your research project. Data can be analysed in the Workspace using standard tools such as R and SQL as well as our custom-built Statistical Imaging module.
Workspaces can be integrated with Aridhia's FAIR Data Services where users can easily find and collate data or store it in a reusable way. Together, these products make up the Aridhia Digital Research Environment (DRE).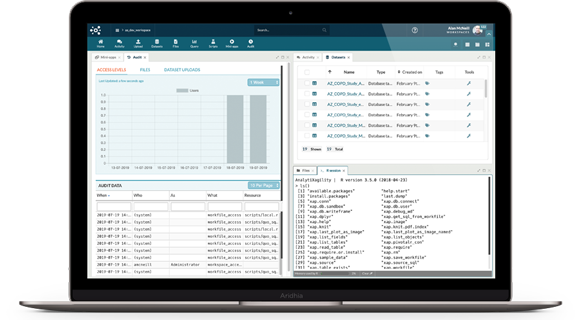 Key Features
Data analysis tools
Built-in data analysis and manipulation tools including; R-Studio, Jupyter Notebook, a data table editor; statistical analytics modules for quick and easy prototyping; and an interactive R console. Source version control is available using an in-built Gitea implementation.
Scalable compute
Virtual desktops can be provisioned to different scales depending on project requirements: GPU desktops are available for big data or machine learning activity or standard desktops can be made available for projects where cost control is a higher priority.
File management
Files and data can be uploaded via an easy to use UI wizard or through SFTP; all files are virus scanned on upload. Once stored, they can be accessed via the workspace UI or virtual desktop and can be downloaded from the workspace via a secure service called Airlock.
Virtual desktops
Each workspace can be provisioned with one or more Linux or Windows Virtual Desktop. These allow researchers and collaborators to work in a familiar environment with the tools they choose.
Security built in
Access to Workspaces is by invitation only and users can be assigned rights based on their project role. Aridhia is an ISO27001 certified company.
Designed to support collaboration
Research workspaces can be accessed from all over the globe and are available 24 hours a day. Workspaces have an activity summary where users can leave notes for each other and comment on activity.