Aridhia
FAIR Data Services
For trusted data sharing
Aridhia FAIR Data Services gives researchers and innovators the ability to discover and understand data through dataset search, classification, and efficient metadata browsing capabilities described via dataset catalogues, dictionaries, and associated attached assets.
What is FAIR?
Our service is built upon the FAIR Data Principles of making data
Findable, Accessible, Interoperable and Reusable:
Findable
Making data discoverable, identifiable and searchable via the assignment of metadata and unique identifiers.
Accessible
Available and retrievable data with access via authentication and authorisation procedures.
Interoperable
Parseable and semantically understandable data allowing the broadest possible data exchange.
Reusable
Accurately described data with associated provenance and well documented, easily shared usage rights.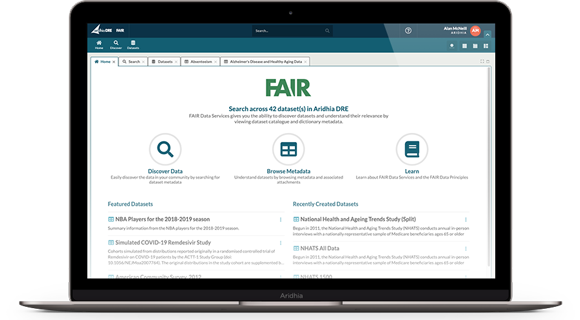 Aridhia
FAIR Data Services
FAIR Data Services is designed for research and to help reduce the barriers to entry of discovering and browsing data – tasks that researchers can spend up to 80% of their time performing to facilitate their research. FAIR Data Services also provides a secure and compliant environment that is designed with security and privacy in mind, prevents unauthorised access or use of data and adheres to information governance standards.
Researchers and innovators have the option to integrate with Workspaces to run analysis and curate new data in a secure and audited environment, which can then be re-published to enhance data findability. The integration of FAIR Data Services and Workspaces makes up the Aridhia Digital Research Environment (DRE).
Key Features
Data Discovery
Search for datasets relevant to your research project using text-based simple or complex search queries.
Metadata Browsing
Understand existing datasets by viewing metadata including catalogue and field-level descriptions. Download machine-readable dataset metadata.
Metadata Management
Upload your dataset metadata and associated attachments (e.g. PDFs, json, etc) to be discovered by others.
Role-based Access Control
Self-service signup with role-based user permissions. This includes read only and edit/update roles.
Built on Standards
Uses the Data Catalog Vocabulary (DCAT) for dataset instance-level descriptions.
Integration with Aridhia Workspaces
Single Sign On (SSO) between FAIR and Workspaces services. Consistent Aridhia DRE user interface.
Privacy by Design
Secure data access and management via MFA, RBAC, encryption and secure key management. ISO 27001 accredited.
Cloud-native Service
Developed and hosted on the cloud. Integrates with and improves on cloud technologies.
Want to know more about
FAIR Data Services

?
A product demonstration
Customising

FAIR Data Services

to your requirements
Pricing
Our roadmap and upcoming releases