December 13, 2013 | Pamela
When it was announced earlier this year that NHS England was creating a network of 15 new Academic Health Science Networks (AHSNs) to act as a platform on which the NHS, academia and industry can collaborate to identify and rapidly develop innovations, we were delighted by the news.
As a business built on the concept of collaboration, we are big believers in the power of leadership and close multidisciplinary cooperation across sectors. In practical terms, this means that some organisations need to rethink their traditional ways of working, but we truly believe that by working together organisations such as the NHS, universities, and companies like Aridhia can collectively innovate ways in which to improve service delivery and patient outcomes.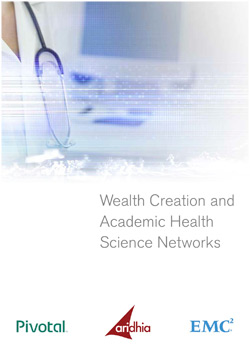 However, improving outcomes is only part of the Academic Health Science Networks objectives; they have also been tasked with contributing to economic growth. Transforming previously not-for-profit organisations into wealth creation bodies capable of driving economic growth is a major shift in emphasis for the NHS professionals leading the AHSNs. Combine this with the need to deliver improved patient outcomes, and cost-efficient treatment and services innovations, and they have a real challenge on their hands.
With this in mind Aridhia's Medical Director Dr Cathy Kelly, and Chief Privacy Officer Kim Kingan, along with Chris Roche, CTO of our partner EMC, pulled together some thoughts regarding how CEOs of AHSNs might address the complex challenges they are facing in a paper entitled Wealth Creation and AHSNs.
The paper proposes that in order to deliver on each of the AHSN's objectives, they should focusing on building an open business model that addresses the long tail market of the healthcare system. With collaboration so vital to the success of these networks, investing in an information platform that allows collaboration to take place both at the biomedical informatics level and relationship level is key.
Noting that the new AHSN structure could play a central role in accelerating the transformation of healthcare delivery in the UK, the paper introduces business modelling and biomedical informatics concepts that Aridhia and EMC believe will need to be embraced by AHSNs if they are to deliver on the wealth creation agenda.
Raj Jain, newly appointed Managing Director of the Greater Manchester AHSN, had this to say about the paper:
"This is a must read article for all CEOs of healthcare organisations and AHSNs. Never has there been a time when inspiring leadership is more needed. We must be authentic, engage the public and take our staff with us. We are all searching for solutions.
Transformational is a word that is widely used, but little of it is in evidence. This article will help you think about how to position your organisation to maximise value to the people we serve and help you inspire your staff as you map out a road for them.
Understanding the transformational implications of 'big data' in the biomedical informatics field, understanding how your business model must change and the understanding that the NHS is one of the few healthcare systems in the world that is capable of leading the revolution are the value that you will receive from reading this article and applying your thinking to it."
We hope that you enjoy the paper as much as Raj did, and would welcome your feedback.
For Aridhia CEO David Sibbald's take on the Academic Health Science Networks, please read his blog post, Fifteen new Academic Health Science Centres Announced.
---