October 20, 2015 | Harry
We were really pleased to be part of the Big Data Expo in Utrecht last month – a new European conference celebrating big data – along with our new Netherlands-based partners Vancis. With a fantastic agenda packing in numerous data and analytics sessions and a busy exhibition, we were really looking forward to a hectic few days – and weren't disappointed!
When I arrived the scale and breadth of the event became apparent. Over 65 data-driven organisations were in attendance. This included giants like IBM, Microsoft and Amazon down to smaller, specialised companies with more particular offerings – like Aridhia. Collaboration seemed to be at the forefront of the minds of many of the attendees which, as company with collaborative research at its very core, was great news for us!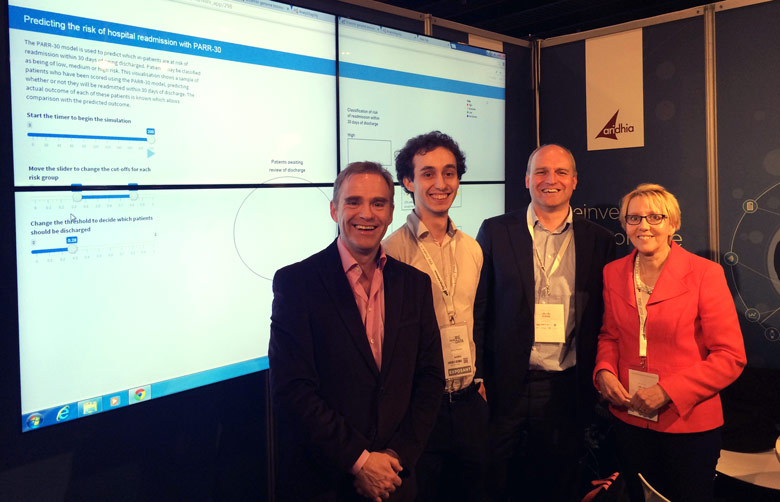 Chris Roche, Harry Peaker, Eric Heemskerk and Anita Blakeston
I was at the event to demonstrate the power of our collaboration with Vancis, and I – along with our Vancis colleagues – certainly had our hands full. We were equipped with a range of AnalytiXagility demoware including the PARR-30 predictive model, cancer pathways, diabetes model, genome browser, heart disease predictive model and RNA-Seq mini-app to showcase just how effective AnalytiXagility can be for multidisciplinary, collaborative research.
The stand attracted a steady stream of visitors throughout the day who seemed to be drawn in by the phrases 'collaborative research' and 'prediction', as well as the simulation of our PARR-30 model running on our screens. It was fantastic to meet so many people who are embracing collaboration in the cloud and our demos really resonated with them.
On the second day, I was joined on the stand by Aridhia CEO, Chris Roche and Anita Blakeston, the Project Manager of the Horizon 2020 funded ADVOCATE project – another of Aridhia's collaborative partnerships. Chris and Anita were there to deliver a keynote speech alongside Eric Heemskerk, Commercial Director of Vancis. In true international collaborative style, it was a multilingual look at using data science to help research and healthcare organisations unleash the combined power of community and data to reinvent how care is delivered.
The keynote speech certainly seemed to spark a lot of interest and we were kept busy by a constant stream of delegates interested in how they could use AnalytiXagility's advanced data science, collaboration and audit technologies to enable their own collaborative research projects. The secure, cloud-based nature of the AnalytiXagility platform was of particular interest, and we had a busy and interesting afternoon finding out about cutting-edge healthcare research that's taking place across Europe.
My first experience of the Big Data Expo was definitely a positive one; it's always great to have opportunity to demo our suite of products live, meet fellow data scientists and researchers, and talk to really interesting people about their collaborative projects.
If you didn't manage to make it to Utrecht this year keep an eye on our events page to see where we'll be speaking next.
---