Working with Aridhia is about more than just a job, it's a chance to make a real difference to the world.
Aridhia's cloud-based business model is delivered through AnalytiXagility, our innovative data analysis platform and services. Our services enable healthcare and research organisations to accelerate their analytic projects in order to develop new, data-driven approaches to healthcare.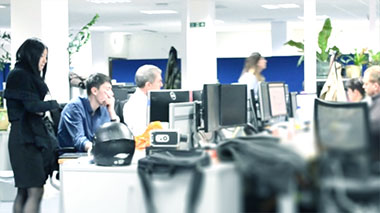 Delivering innovative services requires the talents of a diverse and multidisciplinary team. Aridhia combines technical, data science, commercial and academic expertise to deliver services at the leading edge of the analytics space, making it an inspiring and exciting place to work.
Each team member across our two office locations (Edinburgh and Glasgow) has a vital contribution to make through the application of their skills, knowledge and experience.
Open innovation is key to our approach. What makes Aridhia successful is not our individual capabilities, but our ability to work together collaboratively - both internally and externally with our partners and customers.
We follow an agile working method with daily team stand-ups, progress boards, sprints, and show and tell sessions, to keep people informed and involved as projects evolve, and to share knowledge across teams.
Aridhia is an entrepreneurial and ground-breaking company. We're creating a market and growing a business; it's exciting and probably unlike anything you've done before!
How to apply
We are always looking to bring new talent into the team, so please take a look at our list of current opportunities.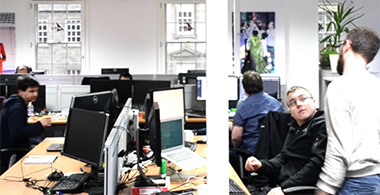 We welcome direct speculative applications and candidate enquiries, so if you don't see an exact fit in our current vacancies but feel that you have valuable experience to offer, please e-mail a detailed CV and covering letter to recruitment@aridhia.com. You must be able to demonstrate talent in a relevant area, be forward thinking, flexible, proactive and committed to achieving our goals.
NB: We only work with a small number of recruitment agencies on our Preferred Supplier List (PSL) and will not consider any CVs from other agencies, nor will we pay fees to an agency which has not signed up to our standard terms.
In addition to competitive remuneration packages with opportunities to share in our commercial success, we offer the following benefits:
35 days annual holiday entitlement, inclusive of four public holidays
Private healthcare for employees and their families
Death in Service scheme
Generous Company Pension scheme
Childcare Vouchers scheme
Cycle to Work scheme
Enhanced maternity, paternity and sick pay benefits
Individually tailored induction and personal development plans
Flexible approach, and highly attractive working environment
Opportunity for international travel